REGISTER HERE for Yreka Breakfast
REGISTER HERE for Mt.Shasta Breakfast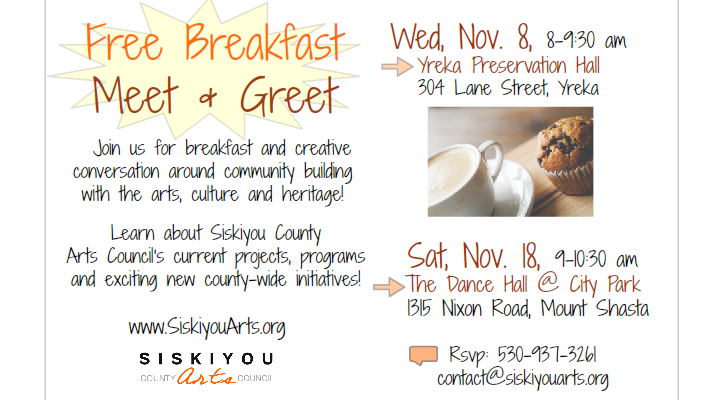 Siskiyou County Arts Council is excited to announced our newest fiscal sponsorship:

 A performing arts center coming to Mount Shasta, CA!
click here to read article about JCA in Mt. Shasta news
The first fundraiser for the Jefferson Center For The Arts will be an Oktoberfest on Oct. 28 from […]
The Arts and Personal Development
Textile artist Magda Sayeg transforms urban landscapes into her own playground by decorating everyday objects with colorful knit and crochet works. These warm, fuzzy "yarn bombs" started small, with stop sign poles and fire hydrants in Sayeg's hometown, but soon people found a connection to the craft and spread it across the world.
"We all live in this fast-paced, digital world, but we still crave and […]

Siskiyou County Arts Council is the proud fiscal sponsor for The I Create What I Believe! Program, which was created by Nancy Marie and is endorsed by Dr. Lipton and based on his research, offers fun and scientifically sound tools to help both children and adults learn how to activate and move back into their conscious […]
Artists Interview Series presented by
Siskiyou County Arts Council
One of the ways the Arts Council supports local artists is through an Artist Directory on our website. In addition, we have begun a series of interviews with our member artists. This interview with artist Kim Solga is the first in this exciting series, so let us know what you think!!  And if you're an […]

Your Opportunity to be a Leader!
Are you looking for a unique leadership opportunity? Have you been yearning to put your talents in the service of a great cause? If you have […]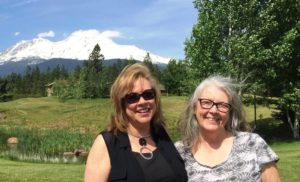 Executive Director, Lugene Whitley and Founding Director Lauri Sturdivant
The Siskiyou County Arts Council is pleased to announce the appointment of a seasoned arts organization leader, Lugene Whitley, as their new executive director- effective May 1. The hire follows a statewide search by members of the art council's board and hiring committee. Whitley […]
How do we engage an larger audience in the work we are doing in the arts? Nina Simon has answers!
Nina Simon is the the Executive Director of the Santa Cruz Museum of Art and History and brings new ideas of how to create a space where people are engaged in meaningful activities.
What interests you? How can you expand your arts organization to create a […]