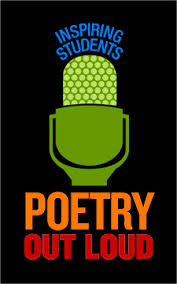 Siskiyou County Arts Council announces the 2017 Siskiyou County Poetry Out Loud Finals will be held at the Yreka Library, on Thursday January 26, 2017 at 1:30 pm.
This competition is presented by the Siskiyou County Arts Council in partnership with the Friends of the Yreka Library, California Arts Council, National Endowment for the Arts, and the Poetry Foundation. Poetry Out Loud is a National Recitation Contest that encourages high school students to learn about great poetry through memorization, performance, and competition. Over the past 11 years, Poetry Out Loud has reached more than 3 million students and 45,000 teachers from 10,000 schools nationwide.
On January 26, 2017 at 1:30 pm Siskiyou County students from Etna, Weed, Mattole and Golden Eagle High Schools will participate in the Poetry Out Loud school contest at the Yreka Library 719 4th St., Yreka. The winner of this competition will represent Siskiyou County as they advance to the California State Poetry Out Loud contest. The California champion will advance to the Poetry Out Loud National Finals on April 25–26, 2017 in Washington, DC, where $50,000 in awards and school stipends will be distributed.
Attendance at the Siskiyou County Poetry Out Loud Finals is free and open to the public. For further information, call Lauri Sturdivant at 530.859.3599. For more information about Poetry Out Loud visit www.poetryoutloud.org