S

ocial

C

hange through

R

e-Purposing,

A

rt,

P

eace &

S

ustainability

Stay Tuned… our S.C.R.A.P.S. Program is Launching Soon!

The goal of the Siskiyou County Arts Council's S.C.R.A.P.S. program is to promote understanding and to facilitate creative action on current issues that we face in our community, through offering educational art activities. SCAC recognizes how central creativity is to personal and social development, as well as the role of artists in social change.


For instance, there are many inventive ways we can work together to reduce and reuse resources in our everyday lives, while decreasing our consumption of new materials. The S.C.R.A.P.S. program will creatively collect and re-purpose items (that are typically discarded or recycled) and offer free art materials and activities for youth, teens and adults.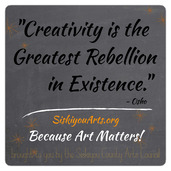 S.C.R.A.P.S. was developed years ago in Siskiyou County by Rebecca Bruhn, (current Board President)
and after a long rest, it is now being re-vamped and re-vived by the Siskiyou County Arts Council.