The
S.C.R.A.P.S. Art Cart

 is Coming Soon!

Launch date: Earth Day 2018

Siskiyou County Arts Council's mobile creation station, the S.C.R.A.P.S. Art Cart, will be travelling throughout all districts of Siskiyou county, offering eco-education with engaging art activities for youth, teens and adults. You will be seeing us at the Farmer's Market, fairs, school parking lots, festivals and more!
S

ocial

C

hange through

R

e-Purposing,

A

rt,

P

eace &

S

ustainability

The goal of the Siskiyou County Arts Council's S.C.R.A.P.S. program is to promote understanding and to facilitate creative action on current issues that we face in our community, through offering eco-educational art activities and county-wide engagement. SCAC recognizes how central creativity is to personal and social development, as well as the role of the arts in social change.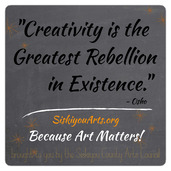 For instance, there are many inventive ways we can work together to reduce and reuse resources in our everyday lives, while decreasing our consumption of new materials. As well, creatively finding ways to transform materials that are not currently being recycled in Siskiyou County. The S.C.R.A.P.S. program will collect and re-purpose items (that are typically discarded or recycled) and offer free art materials and activities for youth, teens and adults.
 S.C.R.A.P.S. was developed years ago in Siskiyou County through a creative collaboration between Rebecca Bruhn (now current SCAC Board President) and Natalie Jai Ortiz (now current Administrative Director for Mount Shasta Bioregional Ecology Center). After a hiatus, we are all excited to continue collaborating as community with renewed purpose and passion!